Our giant inflatable gorillas are used for all types of promotions like grand openings, auto dealerships, new product introductions, movie premieres, open houses, concerts, public fairs and many other events that need immediate excitement.
When combined with our searchlights or any item from our complete line of advertising balloons, giant air filled gorillas can help create an unforgettable event or promotion!

Attract crowds from miles away with a
giant inflatable gorilla.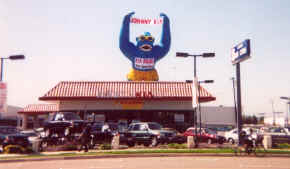 Inflatable gorillas are available in 16 colors.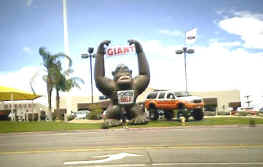 Some air gorilla are available with banners.
---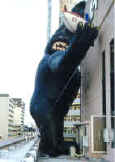 25' Gorilla Holding Boat
$4680.00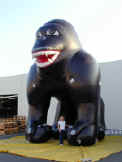 25' Black Sitting Gorilla

$4380.00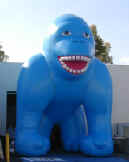 25' Blue Sitting Gorilla

$4380.00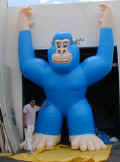 16' Happy Gorilla
$2840.00
---

16' Gorilla With Shorts And Sunglasses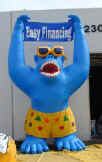 16' Gorilla With Shorts, Sunglasses & Banner
$3150.00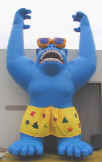 32' Gorilla With Shorts And Sunglasses
$5000.00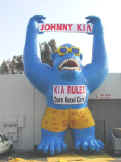 32' Gorilla With Shorts, Sunglasses & Banners
$5139.00
---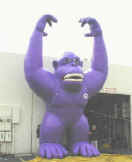 25' Grape Ape
$3890.00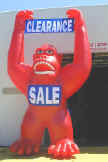 16' Red Gorilla
With 2 Banners $2840.00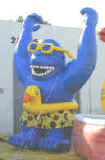 16' Blue Gorilla With Shorts, Sunglasses And Rubber Duck
$3460.00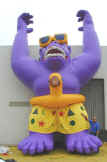 32' Purple Gorilla With Shorts, Sunglasses And Rubber Duck
$5638.00
---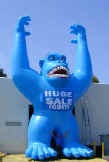 32' Blue Gorilla With Banner
$4640.00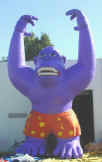 25' Purple Gorilla
With Shorts
$4190.00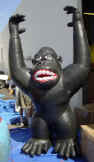 11' Black Gorilla
With 2 Banners
$1990.00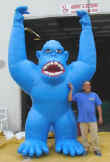 11' Blue Gorilla
With 2 Banners
$1990.00
---
Our Advertising Gorillas Are Perfect For:
• Trade Shows & Exhibits
• Grand Openings & Special Events
• Sporting Events
• Retail Sales & Indoor Promotions